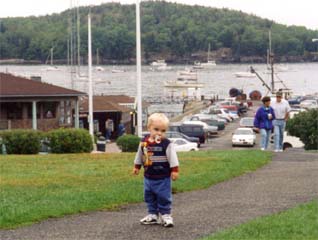 Alexander in Bar Harbor.

The great state of Maine, featuring the little town of Bar Harbor on Mt. Dessert Island, was the focal point of Alexander's New England vacation. Maine is known primarily for being the only one of the fifty states to have only one syllable in its name. (What about Indiana, you might ask? Indiana has four syllables. If you need us to tell you that maybe you shouldn't be using a computer!)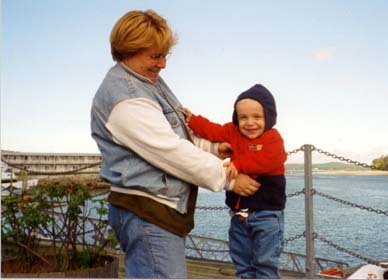 Alexander and his mother in Bar Harbor

Maine is also, of course, world-renowned for its lobsters. Visitors to Maine are continually reminded of the lobster industry. It's served in virtually every restaurant, both in the classic "giant boiled insect" style, and also in sandwiches called "lobster rolls."

As proud as they are of their lobsters, Mainers, as they're called, seem to be equally proud of their blueberries. In the other 49 states, the lobsters get all the recognition, but blueberries get equal billing on Maine's restaurant menus, road signs, and storefront displays.

Alex and his family followed the "when in Rome, do as the Romans do" philosophy, and sampled the local fare. Alex's father ordered the boiled lobster at Freddie's Route 66 Restaurant, on Cottage Street, and had to receive instruction from the helpful waiter on how to eat the thing. It was like combining a meal with a science project. A lobster eater has to tear apart the boiled red carcass, looking for the tasty chunks of white meat. When the meal is done, the diner is left with a plate containing internal organs, eyes, and an empty exoskeleton. Alex did taste a sample of his father's lobster. While he didn't seem to dislike it, he declined the offer of a second taste.
| | |
| --- | --- |
| When in Rome... Alex's father tastes some Maine lobster. | Blueberry ice cream. |
Watching his father eat the lobster made quite an impression on young Alexander. Upon awakening the following morning, the very first words he uttered were, "Daddy ate a red bug!"

There were also plenty of blueberries to be eaten, and in a variety of forms. Alex and his parents enjoyed blueberry pancakes, blueberry strudel, blueberry muffins, and blueberry ice cream. Blueberries already ranked among Alex's favorite fruits, and, to him, Maine was Blueberry Heaven.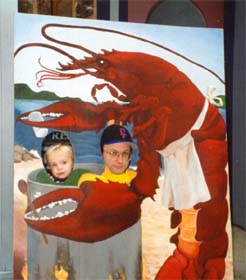 Alex and his father discovered this cutout on the sidewalks of Bar Harbor.

Bar Harbor, meanwhile, is a tourism-based seaside town, with all the charms and delights that are generally found in tourism-based seaside towns. There are ships, and shops, and restaurants. Been there, done that? You probably have. What sets Bar Harbor apart, however, from other similar towns is its proximity to Acadia National Park, the most-visited National Park in the northeast, and home of the finest scenery to be found on the east coast.

Bar Harbor is also the point of embarkation for a number of harbor and whale-watching cruises. Alex's parents felt that the cold choppy waters of a whale-watching cruise might be decidedly unpleasant for a small boy, so they opted for a more gentle harbor cruise. The harbor cruise, guided by a ranger from the National Park, sailed around the many small islands surrounding Mt. Dessert Island. From the boat, it was possible to see a variety of wildlife, including cormorants, seals, and bald eagles. Alex joined in on the animal-spotting fun. For the starboard side of the ship, he claimed to have spotted an elephant eating a banana. It was a notable sighting. Wild elephants are quite rare in Maine, at least in the late summer.

Alex also spotted a killer whale in a Bar Harbor gift shop. Seeing his immediate attachment, his mother gladly shelled out $12 for the whale, whom Alex named "Whale." Whale is now one of Alex's nightly sleeping companions.

In another Bar Harbor gift shop, Alex picked up a rubber sea gull for one dollar. Back at the hotel, Alex had fun making the sea gull "fly" by throwing it backwards over his head. That sea gull was bouncing off the walls, the ceiling, and his parents' faces. The rubber gull would also play a pivotal role later in the trip, during a visit to Plymouth Rock.