But the story of Granada doesn't begin with Brad Seed and Rachel. Granada was founded in the 8th Century by the Moors, an Arabic people who ruled much of Spain for hundreds of years. If you want a detailed history of the Moors, you've come to the wrong place. Suffice to say that, even though the Moors are long gone, they left many traces of their presence behind.
| | |
| --- | --- |
| Alex looks for fish in the reflecting pool. | From the Alhambra, Alex looks out over the Andalucian landscape. He was able to see churches, and castles, and mountains, and towns. These were the four things that he was told he would see in Spain, and to be able to see them all at once was very exciting to Alex. |

The Alhambra, and its next door neighbor, the Generalife, were built by the Moors in the 13th Century. The combined complex contains palaces, forts, churches, and acres and acres of gardens. In centuries past, the Alhambra saw its share of battle and bloodshed, but today it's one of Spain's premiere tourist attractions, and a wonderful place to spend a beautiful spring day.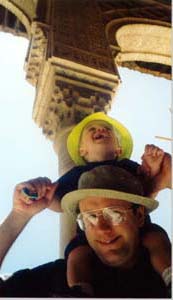 Here we see Alex and his father clowning around in the royal palace.

Alex slept through most of the Generalife, which was a summer vacation home for ancient sultans. The Generalife sits on the side of a mountain, which means that anyone who walks through the gardens and courtyards is going to encounter a lot of steps. For two parents with a sleeping two-year-old in a stroller, that means there's bound to be a lot of heavy lifting. Alex slept peacefully as his stroller was lifted and lurched, tilted and twisted, up stairways wide and narrow, around and through tour groups, past hedges and fountains, and flowers and orchards. Alex didn't wake up until his parents had carted him all the way to the very top of the Generalife, at which point he happily made the downhill trek on foot.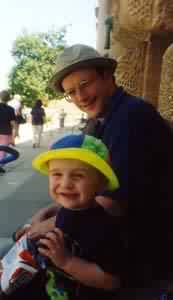 Alex takes a break to enjoy some patatas fritas.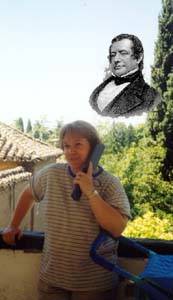 The spirit of Washington Irving hovers over Alex's mother.

During their tour of the Alhambra and the Generalife, Alex's parents were guided by the spirit of Washington Irving. Or, more precisely, by a rented handset that played the recorded narration of an actor pretending to be Washington Irving. The narrator was more flowery than informative ("These waters! These dancing waters!") and, somehow, the New York born Irving ended up with a British accent. It didn't take long before Washington Irving began to get really annoying. Alex's mother would roll her eyes in contempt of "Irving's" excessive, exorbitant, extravagant, inordinate and extreme use of adjectives.

In case you're wondering who Washington Irving was, he was the American author of Rip Van Winkle and The Legend of Sleepy Hollow. (To our knowledge, he's not secretly related to former basketball great Julius Erving.) His stay in the Alhambra in 1829 inspired his Tales of the Alhambra. One tale he didn't tell, though, was the tale of a small American boy who, while excitedly running around in Washington Irving's old bedroom, tripped and fell on the hard floor. (If any of Washington Irving's descendants are reading this, and would like to be sued, please send us an e-mail!) Moments later, out in a courtyard, an excited but fatigued Alex took another hard spill. Both falls occasioned an onslaught of tears, but they soon subsided, and Alex continued enjoying his day.

There's certainly a lot more that can be said about the Alhambra. We're certain that many volumes have been written about the incredibly detailed carvings and the spectacular architecture. We'll just close by saying that, if you're ever in Spain, you should make certain that Granada and the Alhambra are on your itinerary. Amazing architecture, beautiful gardens, warm sunny weather, and crowds of happy people combine to give the Alhambra a fun, vibrant atmosphere.

The next morning, our three travelers would get into their Spain car and head for the Mediterranean Sea, for a day of sun and fun at the legendary Costa del Sol.