Nash Dinosaur Prints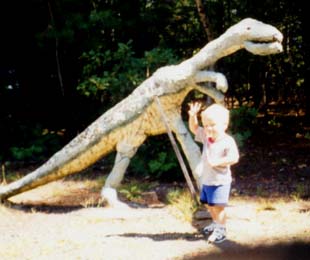 Don't be alarmed! Although it looks amazingly lifelike this fierce creature is merely a scuplture positioned in front of Nash's Dinosaur Land.

On the first leg of their trip through New England, Alex and his parents stopped to get out of the car, stretch their legs, and do a little sightseeing. The spot they chose was the area surrounding Holyoke, Massachusetts, just north of Springfield, where basketball was invented in 1891. Just four years later, in 1895, the sport of volleyball was invented in Holyoke. As a result, the decade of the 1890's has come to be known as "The Golden Age of Innovative Massachusetts Gym Teachers."

The principal reason for choosing this location was the allure of the Nash Dinosaur Prints, in South Hadley. The site showcases actual fossilized dinosaur footprints, on the very spot where they were discovered in 1933 by Carlton Nash.

The place is, quite frankly, a bit of a dump. It's a small building that is charitably called a gift shop and museum. Visitors can buy rocks, broken fossils, and pieces of petrified wood from just about everywhere but Massachusetts. The two-dollar admission fee entitles you to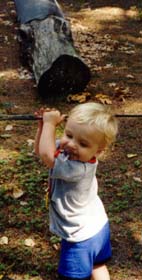 A fallen log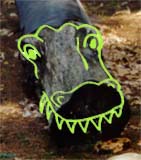 The same log, through Alex's eyes

walk around in the backyard, where the dinosaur prints can been seen. If you visit the Nash place, keep your expectations low. The prints are not those of mighty beasts like tyrannosaurs or brontosaurs. The largest prints are smaller than those that might have been left by an ostrich, and the ones most easily seen might easily have belonged to a large chicken.

Be that as it may, Alex loved the Nash Dinosaur prints. He had a wonderful time in that little backyard, and he did not want to leave. The main attraction? An old log that looked, to him, like a brown alligator. He also found a rusted old metal trash can that, with a dose of imagination, he dubbed "a turtle."