Alexander and his father endure the strong winds just below the summit of Mt. Washington

New Hampshire, arch rival of Vermont (really!) is probably best known as the place where Presidential dreams are made or broken. Every four years, senators, governors, and other political types converge on The Granite State to shake hands, kiss babies, and flash a lot of phony smiles. Fortunately, Alex and his parents visited New Hampshire a full 17 months before the 2000 primary, so there was little danger of accidentally running into Steve Forbes or Pat Buchanan, although there were reported sightings of Lamar Alexander.

The Alexander Home Page firmly denies that Alex's visit to New Hampshire has anything to do with a potential run for the presidency in 2000. The purpose of his visit was purely recreational. While Alexander has not ruled out a future run for the nation's highest office, it should be noted that the Constitution prohibits him from running until 2032.

Alex's time in New Hampshire was spent in the White Mountains. While there, he saw a trained bear show at Clark's Trading Post, went to the top of a windy mountain, hiked through Flume Gorge in Franconia Notch, and saw the Old Man of the Mountains, a jagged outcropping of rock that somewhat resembles a human profile. So stick around, read a few paragraphs, and find out all about Alexander's time in New Hampshire.
---
The Mount Washington Auto Road
You've probably seen them. White bumper stickers with red lettering, proclaiming "This car climbed Mt. Washington." Mt. Washington is the highest peak in the Northeastern United States. It soars 6,288 feet above sea level, and can prove to be quite a challenge to some cars. That bumper sticker is a badge of honor that any car should be proud to display.

Before setting out on the eight-mile-long Mt. Washington Auto Road, drivers are warned to be extremely careful. Drivers are instructed to keep the car in low gear both on the way up and down. The road features sheer cliffs, and no guard rails. The traffic is two-way, which means that you might be faced with an oncoming mini-van while making a sharp turn, with loose gravel under your wheels, and nothing but open sky to your right. While driving the Auto Road is not a daredevil feat, it is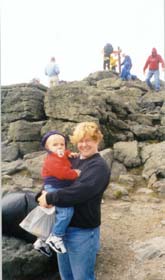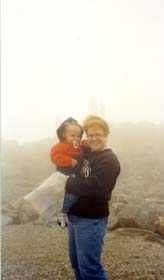 The weather changes quickly atop Mt. Washington. The two pictures above were taken only moments apart.

also not for the especially faint-hearted. In clear weather, it is said, visitors to the summit can see Maine, Vermont, Quebec, and the Atlantic Ocean. When Alex and his family pulled up to the entrance booth, however, a sign advised that the visibility at the summit was a mere twenty feet.

They decided to drive to the summit anyway, and did not regret their decision. While they were unable to see the spectacular panoramic view, they did see some extreme weather. In April 1934, Mt. Washington was the site of the highest wind velocity ever recorded, 231 miles per hour. On the day of Alex's visit, the wind was blowing at a force of 75 miles per hour. While nowhere near the record high, the winds were fierce enough to ruin an outdoor picnic, if anybody had been foolish enough to attempt one.

The sky might be sunny for a moment or two, but, suddenly, a vertical wall of clouds would come scudding over the top of the mountain like a squadron of fighter pilots. Instantly, the sun would be obscured, and the fog would be as thick as clam chowder. (The pea soup analogy is overused, and, after all, this is New England weather we're talking about!)

Alex didn't hate the wind as much as might be expected. His first observation was "It's windy!" And then, "It's cold!" While he didn't seem upset by the violent weather, he did stay huddled close to whichever parent was desperately clutching him. While the view on a clear day might be impressive, it is probably not as memorable as seeing Mother Nature's fury.