| | |
| --- | --- |
| | While in the 17th Century, Alex dropped by the backyard of a Pilgrim household, looking for chickens to chase. Above, Alex finds what he was looking for. |
While in Plymouth Massachusetts, Alexander journeyed back in time to the 17th Century when he visited Plimoth Plantation, a recreated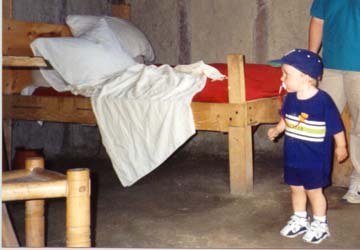 Alex checks out a Pilgrim bedroom

village in which the interpreters are in costume and in character. They do their chores, cook and eat their meals, using the tools and speaking the dialect of the Pilgrims. Each character has his or her own history, and stories to tell their past lives in Olde England, the voyage on the Mayflower, and their current situation in Plymouth.

Alex was napping in his stroller when he and his parents arrived at Plimoth Plantation. Imagine his surprise when he woke up in the distant past! He came to life quickly when he realized that there were farm animals around. He seems to be especially fond of goats and chickens, and there were plenty of both species to be found. Amazingly, all of the animals were in character as well. When Alex chased them, the chickens scattered and clucked just as they would have in the 17th Century!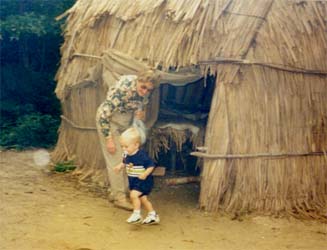 Alex enjoyed running into and out of this Indian hut. Note the authentic ceremonial garb on the Indian woman at the door of the hut.

After leaving the Pilgrim village, Alex and his parents visited the neighboring Indian village, where the art of building dugout canoes was demonstrated. Alex, meanwhile, enjoyed running in and out of a straw hut that was on the premises.

Plimoth Plantation was the final stop on Alexander's ground-breaking tour of New England. It was time to leave the 17th Century, get back into the car (a 20th Century horseless carriage) and head back home.

New England would never again be the same.