WHY "MATTY" LASTS
From The Literary Digest, August 23, 1913
EVERY baseball season produces a new crop of sensational pitchers who figure conspicuously in newspaper headlines from one year to a half dozen, but the fame of Christy Mathewson, of the New York Giants, seems to go on forever. The "Old Master" is the perennial wonder of the game. "Jack" Miller, of the Pittsburg Pirates, said the other day that "Matty" is undoubtedly better this season than he has been since 1908. "He not only has better control," says Miller, "but he has more stuff -- better speed and a better curve ball." With his record of thirteen years of marvelous pitching, "Matty" is puzzling to a great many fans and players; they can not understand why he lasts so long. One explanation of his longevity is furnished by Max Carey, another Pittsburg player, in an interview printed in the Chicago Post:
"Mathewson has the ability and all that," said Carey, "but I believe the main factor that has held him up so long has been his love of the game. Thirteen years is a long time to be under fire. I'm no veteran myself -- only a youngster at the game; but there are times when I'm tired out and would give a farm to break away for a long rest.
"But I've watched Mathewson closely and I've never seen him pitch a ball-game in which he didn't look as if he were having a lot of fun. He always looks as if he had rather be out there pitching than doing anything else. It doesn't look to be work with him, but only pure sport -- an afternoon's romp as a business man might go out to play golf or tennis.
"Many in baseball, " continued Carey, "slow up physically. But I believe a lot of others go back because they get stale on the game – get tired of it – get worn out and in a rut and are no longer able to go to it with any sort of relish. And when this happens it is drudgery, and no man can do good work.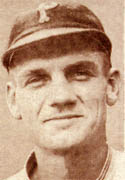 Max Carey
"But after thirteen years baseball is still Mathewson's favorite sport. He either likes it immensely or he is the greatest actor I ever saw. He never has to drag himself out to the lot and force himself to play. The game appeals to him and he finds a lot of new things to study and work over all the time. He doesn't take it for granted that he has learned all there is to learn and go piking on mechanically. He refuses to get into a mental rut."

Carey's dope is undoubtedly to the point. Mathewson is a hard student and a close observer, whatever his undertaking. The physical side of baseball might tire one in a few years, but there are a million kinks to the game and new developments at every turn.

To Mathewson it is an eternal science. It is his specialty, and he finds enough of interest to keep him studying and working without a break. Naturally, this holds his interest. In each game he looks forward to some unexpected turn, or to trying out a batting weakness which he believes that he has discovered.

Another point in Mathewson's favor is the fact that he has never had a sore arm to work with. There are any number of pitchers who attempt to keep in shape, but who by nature are what is known as "sore-arm" workers, and who are therefore sadly handicapped. There's no great appeal in pitching a ball-game where every thrown ball is like the injection of a knife-blade into one's shoulder or elbow.

But in his entire career Matty has never drawn a sore arm. His arm has been tired and worn down from overwork, left without any snap in elbow or wrist, but a short rest has put him back in form. Much of which is due to the fact that he works easily, with little strain, and that he wastes no great amount of effort. Conservation of his natural pitching arm is the slogan of his administration, and there is no telling how many years he may continue to move along with the elect.