Two of Madrid's top tourist destinations are the Palacio Real and the Museo del Prado. For a boy Alex's age, a visit to a royal palace and an art museum is more to be endured
At left, Alex relaxes on a lightpost in the courtyard of the Palacio Real. Later, he posed in front of the gate to the Botanical Garden, just outside the Prado.
than enjoyed, and he did an admirable job at both sites.

At the palace, Alex's parents opted for the self-guided tour, which leads from one opulent room to another. The palace has 2,800 rooms, and needless to say, only a small fraction of these rooms are available for public viewing. Each room on the tour is brimming with priceless decorations and artifacts.

While many of the palace's treasures were beneath his interest, there were a few items that captured his attention. In each room, he would gaze at the ceilings, which were painted with elaborate murals that generally depicted heavenly angels. In a room that contained a large collection of antique musical instruments, Alex enjoyed looking at the many pianos, violins, and horns. He was especially excited to spot a harp, the instrument that he associates with his favorite Marx Brother. There were also tables that, instead of legs, were supported by sculpted lions, and a billiards table that was "just like Grandpa's." (Actually, the table was just a little bit fancier than the one in Alex's grandfather's basement, if you want to split hairs!)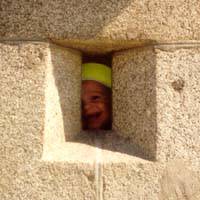 Alex peers out of a window of a guardhouse in the palace courtyard.

On the other side of town, meanwhile, the Prado is considered to be one of the world's greatest art museums, with a collection of paintings highlighted by the works of three great Spanish masters: Diego Velasquez, El Greco, and Francisco Goya. Alex had short bursts of enthusiasm for the artwork, when he'd be excited to find horses or dogs on the painted canvases. Many of the galleries had lavish tables with inlaid stone and intricate colorful patterns. Alex decided these were "ping pong tables" and he enjoyed counting all the ping pong tables in the "picture museum."

The Prado was too big, though, and the collection too vast, for Alex to be able to maintain any kind of enthusiasm. By the end of the visit, Alex was tired and cranky. As we said earlier, toddlers and art museums don't really mesh, but Alex did about as well as could be expected.

There was more traditional toddler fun to be had in the Plaza Mayor (Main Square), which was built during the reign of Felipe III, and completed in 1620. Both the atmosphere and the architecture of the Plaza Mayor are reminiscent of New Orleans' French Quarter. While in the plaza, Alex ran around, ate ice cream, snapped photos, and listened to a band play. Madrid is a loud and festive city, and its Plaza Mayor is a loud and festive place.

After people watching in the Plaza Mayor, Alex did some animal watching at Zoo Madrid. The zoo, which is only three subway stops from downtown, is located in a large city park. Zoo Madrid is similar to many of the better zoos in the United States, although there are a few key differences:
The animals, of course, all speak Spanish.
It's not only a zoo, but it's also an aquarium. There are dolphin shows and big Sea World style shark tanks.
Visitors are not discouraged from feeding the animals. At each exhibit, people entertain themselves and their children by tossing food into the enclosures. As a result, species that are normally reclusive in other zoos become like the ducks in your neighborhood pond. They approach each new visitor, and linger long enough to determine whether or not there's food to be had.
After three days in Madrid, it was time for Alex and his parents to begin the automotive portion of their Spanish vacation. On Sunday morning they picked up their "Spain car" and headed south on the Autovia to the land of La Mancha, and the city of Toledo.